Good Folks,
During the last part of his great lecture, "Of Kings' Treasuries," delivered at Rusholme Town Hall near Manchester in December, 1864, Ruskin used, to illustrate his principal point–that the elites of England had abrogated their responsibility by not reading with care (as only they, given their level of education, among Britain's people, were truly capable of doing), the world's greatest literature. The consequence of this dereliction of duty, he said, was that they had not developed the sensitivity to attend to some of the most vital things in life–art, science, nature, compassion and, ironically, literature. Actually, it was worse, they had come to despise these things. A consequence of the gravest nature (see, for the background of this argument, Post 186: How to Read (Or, Milton and Ruskin meet the Bishops); Post 187: The Despisings (Or, The Not Altogether Pleasant Consequences of Not Reading) and Post 188: Mighty of Heart, Mighty of Mind–Magnanimous.)
To drive home the point, he told them of a (then) relatively unknown Turner watercolor, one which depicted a group of Kirkby Lonsdae school boys, who, on their way home after their classroom rigors, as they took a shortcut through the town churchyard, hit on a terrific idea. They would place their hated schoolbooks on one of the churchyard's gravestones in the churchyard and throw stones at them until their loathed collections of print were knocked onto the ground, the irony of their game being, as Turner and Ruskin immediately saw, was the fact that, behind them, utterly unnoticed, glistened one of the most beautiful scenes in the world, a scene they might have come to appreciate if they had read their books rather than dallied with them in class and hurled rocks at them after.
Some years later, in 1875, Ruskin, as he was composing the 52nd of his Fors Clavigera letters to "the laborers and workmen of Great Britain," had occasion to visit Kirkby Lonsdale again, telling his readers this about its unparalleled view:
The Valley of the Lune at Kirkby [Lonsdale] is one of the loveliest scenes in England—therefore, in the world. Whatever [exists of] moorland hill, and sweet river, and English forest foliage…is gathered there and chiefly seen from the steep bank which falls to the stream side from the upper part of the town itself. There, a path leads from the churchyard out of which Turner made his drawing of the valley, along the brow of the wooded bank, to open downs beyond, a little bye footpath on the right descending steeply through the woods to a spring among the rocks of the shore. I do not know, in all my own country, still less in France or Italy, a place more naturally divine, or a more priceless possession of true "Holy Land."
Still, if one uses only Turner's  painting as a means for appreciating this great Kirkby view,  however marvelously the artist has rendered it, one doesn't really get a sense of how spectacular that view really is. To provide some sense of its true beauty [and, without mentioning it (!), to underscore once again Ruskin's judgment that we moderns  have, by inattention, taught ourselves to despise, or at least ignore, the wonders of nature] is the goal of this post.
To gain that goal, a story. In 2019, Nick Friend, a Companion of Ruskin's Guild of St. George like myself, and I had, like the Kirkby schoolboys, a bright idea. Why didn't we propose to tour the principal Ruskin sites in England, taking with us a group of folks who, their interest in our Great Victorian elevated, might be interested in coming along? As it turned out, a goodly dozen proved interested, and so, on an appointed day, after first assembling at London's Heathrow Airport from a number of far-flung places, we headed out to for our scheduled visits to Oxford, the Birmingham Art Galley, Unclly's Farm near Bewdley, Lancaster and The Ruskin (formerly The Ruskin Library), Coniston (home to The Ruskin Museum and site of Ruskin's grave), Brantwood (his lovely home above Coniston Water), Friar's Crag (where he had his first memories of what was truly beautiful) and Wordsworth's Dove Cottage.
Following these, we were scheduled to next visit Sheffield with its Ruskin Gallery and Ruskin Museum in nearby Walkley, prior to a last adventure with Ruskin manuscripts and letters at the John Rylands University Library in Manchester. (We did it all, and it was all simply wonderful.) 
But, I said to Nick as we readied to leave Coniston for our trip to Sheffield, what about this? En route to Sheffield we will pass very near Kirkby Lonsdale. We could make a brief detour, visit the Church, locate where Turner created his great painting and see with our own eyes, Ruskin's view!
Nick liked the idea; so did our fearless and enthusiastic fellow travelers.  And so, later in the afternoon of that day, 16 May 2019, we arrived at St. Mary's Church in Kirkby Lonsdale. The weather was spectacular: warm and sunny. The following pictures offer a record of our visit.
(For the pictures, my abiding thanks to Ryan Berley, Stuart Denenberg, Peter Howell and Wendy Ward.)
As we departed, we all thought that Mr. Turner and Mr. Ruskin would have been pleased that we had taken our small detour to spend some moments appreciating this, "one of the loveliest scenes in England–and, therefore, the world."
§
I end this post, as is proper–with another story, one which will appeal especially to Jim Hanink. It is a story which I can aver is absolutely (if not indubitably) true. It is a story which, in the flimsiest of associative ways, will take us back to the very end of our last post. There, it will be remembered, Ruskin was recalling, in his autobiography, Praeterita,  the powerful and noble influence which his reading of the essays of the great Dr. Samuel Johnson had had on the formation of his character. It goes as follows.
It was one of those many evening soirees hosted by the good doctor in London, an evening when, as always, the food was copious and the wine the same.
Fairly late in the discussion (midnight had long departed), for some reason, the talk, for a reason, that, afterward, no one could ever remember, turned to salads and, as with most things, Dr. Johnson's opinion of the phenomenon was sought. "How does one make a salad?" asked one of the much younger, but-so-very-glad-to-be-in–here-taking-with-the-famous-man, guests. "Ah, my dear friend," replied the corpulent sage, "that is easy to tell. I am surprised you do not know!" "But I don't," was the response. "Please enlighten us as I know of no one who knows how to do it. Indeed, I don't know anyone who eats them!" "Well," replied Johnson, "I will give you the recipe. First, you find some lettuce; then you tear it to pieces and place it in a large bowl. Next you take a cucumber, slice that into more pieces and put it in with the lettuce. Then you do the same with a tomato, and, perhaps, if any are to hand, some pease." At which point, the great man paused, as if for effect. "Yes, and then?" was the expected response. "Well, then," Johnson continued, "you take a knife and fork and toss it so that everything becomes well-mixed, adding, before you do this, a little salt, some oil, and some drops of vinegar." Another pause. "Yes," asked the young man after a half minute or so had passed: "And then what?" Yet another pause. "Then," replied the great sage, raconteur and lexicographer, as he leaned forward, elbows on knees: "Then, you throw it away."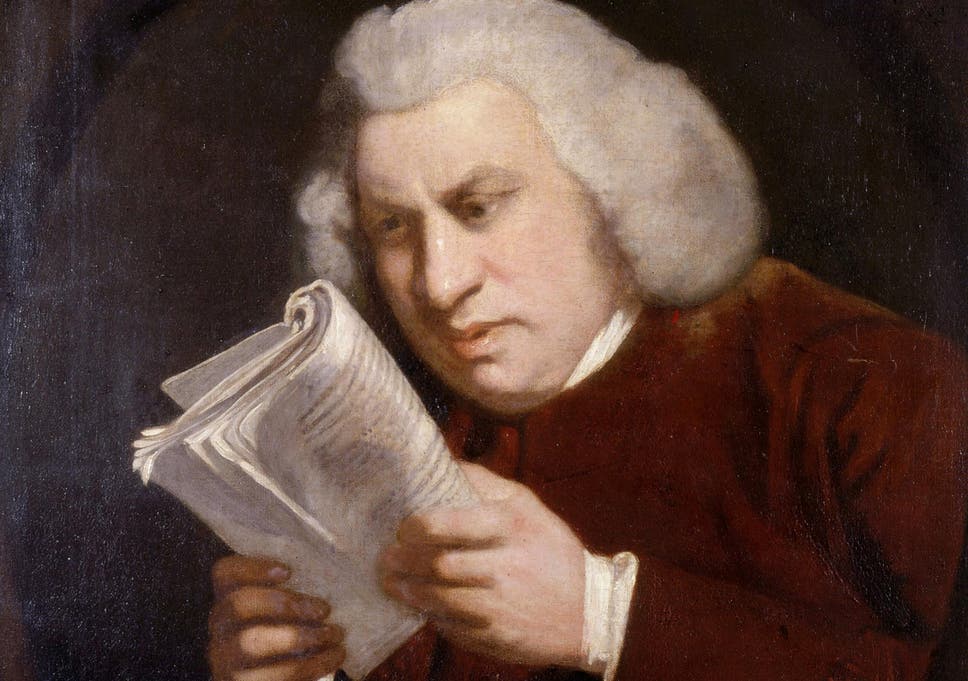 Dr. Johnson: Reading a Book (Sir Joshua Reynolds, 1775)
The Huntington Library, San Marino, CA
Until next time.
Be well still, out there!
Jim
P.S.: Thanks to Stuart Denenberg for the tip which allowed me to determine that the picture of the good doctor above is at The Huntington Library.
P.P.S.: Some have remarked that my story about Dr. Johnson was a great joke. I responded by saying that it was no joke, that I'd been to England! To which, one reply returned from Nick Friend to the effect that, once, while visiting Oxford, some thoroughly modern students announced at dinner that they were vegetarians. In response to which revelation, they were served bowls of lettuce.