Good Folks,
Almost always I save the best of the published praises of Ruskin and his works for special moments like the anniversary of his death (20 January) or birth (8 February). This allows me to devote the remainder of the year's posts to selections from his works which I believe to be not only wonderful in themselves but helpful as guides for our days.
But the just-recently discovered praise-filled passage reproduced below is unique, and for that reason, I believe worthy of the immediate moment, especially since we are still traveling, both pridefully and delightedly, through this year which celebrates the two hundreth anniversary of his birth. Here's how this piece found its way to my consciousness.
I was in Los Angeles, having been invited there to give a talk at The Gamble House in Pasadena stressing the significant contribution Ruskin had made to the origin of what we now call the Arts and Crafts Movement. It was an honor to be so invited because The Gamble House is one of the most famous pieces of architecture in the world. (You will find that a little time spent on its website is time very well spent: see, The Gamble House: Architecture as Fine Art.)
While I was there, my fine friend in Ruskin as in life, Gabriel Meyer, who thinks as much of our Victorian subject and believes as much in his continuing importance to our modern world as I do, placed into my hands a huge book (nearly a thousand pages!)–The Concise Cambridge History of English Literature. It was first published in 1953 and its author was someone by the name of George Sampson. The title page of the book's second edition (1963) looked like this: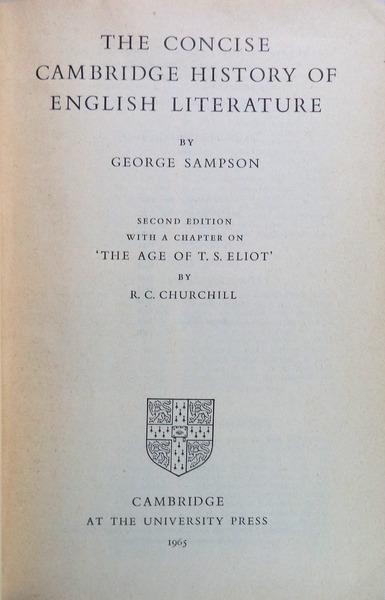 I offer this picture because, try as I might, I've not been able to find out much of anything  about this Sampson fellow on the web (A professor? Surely!). While not a few robust and much younger George Sampsons appeared on my screen when I searched for images, none possesse that scholarly 50s look! (If anyone out there can help me find out something on Sampson or a picture of him, please be in touch!)
As he placed the tome in my hands, Gabe opened it to page 840, saying: "I think you'll find the entry on Ruskin wonderful." Which I did, feeling on that first reading, as now, that Sampson's short essay was one of the finest and most succinct assessments of our subject's genius and the importance of his work I'd ever encountered in a few pages. For Sampson really has his Ruskin down; with insight rare he grasps the rationale whcih generated the trajectory of Ruskin's work, sees as well–and this is vital–how it was Ruskin's great heart, coupled with his abiding concern for our welfare, our faring well, both collectively and individually, that impelled him to set down all those millions of words.
And so, after I returned to our still beautifully leafed campus on the East Coast…
(just couldn't resist), I ordered Sampson's book using our wonderful Interlibrary Loan system and, when it arrived some few days later, scanned (actually, the ever-helpful Jennifer Webb of our Digital Learning Center scanned!) its special Ruskin pages. I hope you will find them as impressive as I do:
Ruskin was a writer from his childhood. His prose style was founded on the Bible which he had read constantly with his mother. At Oxford, he wrote verse, and is among the several famous writers who began as winners of the Newdigate [Prize]. That he paid great attention to his prose is evident from the style of his earliest pieces.
The germ of Modern Painters is to be found in an indignant essay he wrote at seventeen in defense of [the painter, J. M. W.] Turner against a ribald criticism in Blackwood's Magazine. The first volume of the work itself appeared in 1843.  Modern Painters was conceived in a mood of "black anger" at the ignorance and insensitiveness of England; its author felt that he had an apostolic call to dispel the ignorance and to pierce the insensitiveness. Seventeen years were to pass before it was completed.
Long Journeys, year after year, through France to Switzerland and Italy, not only furnished materials for [the Modern Painters series] but opened up ever new vistas. The Seven Lamps of Architecture (1849) and The Stones of Venice (1851-3) were both by-works, undertaken and carried through while the major enterprise was still on hand. All were designed to teach his readers important truths of which they were unaware.
Though Ruskin disappointed the episcopal hopes of his parents, he was, all his life, a preacher. In 1850, he intervened on behalf of the PreRaphaelites, as, in 1843, he had intervened on behalf of Turner. He became an ardent lecturer, and preached beauty in all the ugly centers of industrialism.
By 1860 he was at the great dividing line of his work and life, and he crossed it when, in [that year] he published both the last volume of Modern Painters and the essays afterwards known by the title, Unto this Last.
There is nothing strange in the transformation of the writer on art into the writer on economics. Ruskin wanted art to have all the qualities we sum up in the great word "righteousness." Still more, he wanted life to have righteousness. He was shocked by showy insincere art; he was shocked by the inhuman economic doctrines of Ricardo and the Utilitarians; he was shocked by the poverty and misery which were the price exacted by commercial prosperity; he was shocked by the contented ugliness of the lives led by the swarming people and their masters.
He had already vigorously protested in The Seven Lamps of Architecture against the uselessness of much of the toil to which the working classes are condemned. When the essays forming Unto this Last began to appear in The Cornhill Magazine, they aroused such indignation that [William Makepeace] Thackeray, the editor, stopped them; and when the essays forming Munera Pulveris, [another attack on the laissez-faire economics,] began to appear in Fraser's Magazine in 1862, they aroused such indignation that [James Anthony] Froude, the editor, stopped them! Triumphant commercialism was in power and refused to let itself be criucized.
[But] Ruskin could never be persuaded that he was a revolutionist. He hated the word. His enemies called him a Socialist. He called himself an old-fashioned Tory of the school of Homer and Walter Scott. [His] appointment to the Slade Professorship in Fine Art at Oxford in 1869 gave him a chance to preach his ideals to the young. [On one occasion,] he inspired his students to undertake the practical work of road­making [in what became known at 'The Hinksey Project.']
The variety of his interests and the extent of his labors were prodigious. After Unto this Last [which appeared in book form in 1862, came] Sesame and Lilies (1865) on literature, The Crown of Wild Olive (1866) on work, traffic and war, The Ethics of the Dust (1866) on crystallization, The Queen of the Air (1869) on Greek myths of cloud and storm, and others almost beyond enumeration. In 1871, he began Fors Clavigera, a periodical issue of lectures (ninety-six in all) addressed to the working men of England. The collection is an astonishing exhibition of the multifariousness of the writer's mind and of his genius in the presentation of his matter.
But his exhaustive labors and fiery enthusiasm broke down his health, and, after [his breakdown of] 1878, he was never the same man. He was re-elected to the Slade professorship in 1883, but resigned in the next year. In his latter days, he produced what is the most charming and certainly not the least enduring of his works, [his autobiography,] Praeterita (1885-9); [it is, in effect,] half-spoken rather than written, for [in it] we seem to hear the very voice of the old laborer calmly and happily reviewing his life.
Ruskin died in the last year of the century [no, in January 1900] which he had done as much as any man to ennoble. His individual works are so numerous that a list of their titles would he merely bewildering. Those already named must suffice. The piety of his executors buried him beneath a monumental memorial edition in thirty-nine huge volumes [The Library Edition of the Works of John Ruskin],containing almost every word he wrote. They have frightened readers away ever since.
The prose of Ruskin exhibits all the resources of the language. In his first great works, the Biblical eloquence is resolutely sought, and although writing in that kind was natural to him at this stage of his growth, it is read [today] with some sense of strain. He came to dislike his own early style as he moved,, in maturity towards simplicity. His failure to give the current hard-faced commercialism a conviction of its sin sometimes made him peevish and petulant, but seldom impaired his writing.
It is in the prophetic admonitions of Modern Painters that we can see most clearly the defects of an imperious temper, not in the patient argument and quiet beauty of Unto this Last, the disciplined reasonableness of Fors Clavigera, and the charming garrulity of Praeterita. More beautiful prose than that of Unto this Last the nineteenth century can hardly produce; nor did it produce a writer whose general influence was more beneficent.
Ruskin can afford to endure the mocks of trivial critics who find his weakness in what is precisely his strength: namely, the righteous conviction by which he was animated. To suppose that, because Ruskin demanded moral sincerity in art. He [contended that the current notion that art should not] teach moral lessons was mere fatuity. Art, to Ruskin, was the expression of man's delight in the forms and laws of the world. He asserted intrepidly the serious claims of art in an age of base commercialism. A painting, to him, was not something commercially produced and commercially acquired [only] to be stuck on the walls of an ugly house to give it an "art finish." It was an expression of the spirit. That spirit he assiduously sought and declared.
He taught the English people almost everything they now know about pictures. He revealed the sincere Primitives and abolished the pretentious Eclectics. He gave to England the freedom of Italy, and made its galleries, palaces and churches as familiar as Trafalgar Square. He revealed, however willfully, the nature of Gothic, and made the glory of the French cathedrals a general possession. No one ever declared so clearly that art is a possession and an expression of a whole people, and not a costly privilege of the rich or a fancy of the coteries.
Further, he humanized economics, and showed that righteous art and righteous polity must go hand in hand. It was the conviction that, while life without industry is guilt, industry without art is brutality, [a belief] which drove [him] to examine the kind of industry by which the modem world escapes guilt, only to fall into brutality. The intense humanity that inspires all of Ruskin's work, political and aesthetic alike, can never become antiquated.
•
The Seven Lamps of Architecture was published in 1849 when Ruskin was 30. In it, he set out for all time the natural principles that determine the greatness (or lack thereof) of buildings. In the paragraphs below, he is reminding his readers that some buildings have always been great even though they may have been ignored or despised for decades, even centuries, by shifting cultural biases. Today, a hundred and seventy years later, it seems to me that his few sentences–although the idea would never have occurred to him at the time–can be easily read as being about himself and his own work. (As always, they are exquisitely written.)
I'm quite sure George Sampson would have liked them. 
In recalling the impressions we have received from the works of man after a lapse of time long enough to involve in obscurity all but the most vivid, it often happens that we find a strange pre-eminence and durability in many upon whose strength we had little calculated and that points of character which had escaped the detection of judgment, become developed under the waste of memory, as veins of harder rock, whose places could not at first have been discovered by the eye, are left salient under the action of frosts and streams.
The traveller who desires to correct the errors of his judgment [that have been] necessitated by inequalities of temper, infelicities of circumstance, and accidents of association, has no other resource than to wait for the calm verdict of interposing years, and to watch for the new arrangements of eminence and shape in the images which remain latest in his memory. As in the ebbing of a mountain lake, he would watch the varying outline of its successive shore and trace, in the form of its departing waters, the true direction of the forces which had cleft, or the currents which had excavated, the deepest recesses of its primal bed.
Until next time.
Be well out there.
Jim