For Trevor, Tess, and the very sweet, unobtrusive, but accutely observant, Juni Gionet: for Jim and Jane Gerling, Shoji and Yumi Sato, and the wonderful Jenn Morris, all of whom know whereof Mr. Ruskin speaks regarding the imagination weariable…
Not wanting to tire us out in the last post (#146), I chose to save Ruskin's evidence for the conclusion he reached regarding the imagination weariable until today, a moment when, hopefully, everyone has recovered from that astonishing overload. The point of what's below is to provide, along with some especially apt visuals, good reason to conclude that Ruskin was, as he almost always is, right in coming to the conclusion he did.
The crux of his argument in the previous offering was to acknowledge the unavoidable wearying which develops when we are traveling and looking intently, when we choose to read Dante too deep into the evening, or when we are making our way around museums overblessed with great art. A moment arrives when all blurs, when the brain revolts and refuses to record anything  more of note (even though there's yet another glorious Botticelli painting right there, right in front you!), the moment when you know that you must have a break, must, for a time, go to ground.
The mistake we usually make when this wearied imagination moment appears, Ruskin says, is that, wishing neither to give in nor waste a precious moment, we press on, drive ourselves to look at more of what we know is absolutely great and wonderful–and in so doing we miss it all, with the result that we wind up exhausted, irked, and frustrated. Better, he said, coming to his advice, to just let yourself go to that wished for ground and take a lackadaisical, even languid, look at a bit of grass, a pebble, or the ants–whom, truth be told, even though they have been filing by below us all this time, we had completely overlooked.
Here's his report of how he came to grasp this going-to-ground truth, along with some illustrations which, I suspect, are not unlike those he had in sight when his light dawned. The passage, like the last, can be found right after that last in Modern Painters III:
I well recollect the walk on which I first found out this [secret of how to solve the problem of the weariable imagination.] It was [in June, 1849,] on the winding road from Sallenches, sloping up the hills towards St. Gervais, one cloudless Sunday afternoon. 
The road circles softly between bits of rocky bank and mounded pasture, little cottages and chapels gleaming out from among the trees at every turn.
Behind me, some leagues in length, rose the jagged range of the mountains of the Réposoir. On the other side of the valley, the mass of the Aiguille de Varens,
heaving its seven thousand feet of cliff into the air at a single effort, its gentle gift of waterfall, the Nant d'Arpenaz, like a pillar of cloud at its feet.
Mont Blanc and all its aiguilles, one silver flame, in front of me, marvelous blocks of granite and dark glades of pine all around me.
But I could enjoy nothing–and could not for a long while make out what was the matter with me. Until at last I discovered that if I confined myself to one thing, and that a little thing, a tuft of moss or a single crag at the top of the Varens, or a wreath or two of foam at the bottom of the Nant d'Arpenaz,
I began to enjoy it directly; because then I had mind enough to put into the thing–and the enjoyment arose from the quantity of the imaginative energy I could bring to bear upon it. But when I looked at or thought of all together, moss, stones, Varens, Nant d'Arpenaz, and Mont Blanc, I had not mind enough to give to all, and none were of any value.
The conclusion which would have been formed upon this by a German philosopher, would have been that Mont Blanc was of no value, that he and his imagination only were of value, that Mont Blanc, in fact, except so far as he was able to look at it, could not be considered as having any existence.
But the only conclusion which occurred to me as reasonable under the circumstances (I have seen no ground for altering it since) was that I was an exceedingly small creature, much tired, and, at the moment, not a little stupid, for whom a blade of grass, or a wreath of foam, was quite food enough, and to spare, and that if I tried to take any more, I should make myself ill.
Whereupon, associating myself fraternally with some ants, who were deeply interested in the conveyance of some small sticks over the road, and rather, as I think they generally are, in too great a hurry about it, I returned home in a little while with great contentment, thinking how well it was ordered that, as Mont Blanc and his pine forests could not be everywhere, nor all the world come to see them, the human mind, on the whole, should enjoy itself most surely, in an ant-like manner, and be happy and busy with the bits of sticks and grains of crystal–and ants–that fall its way…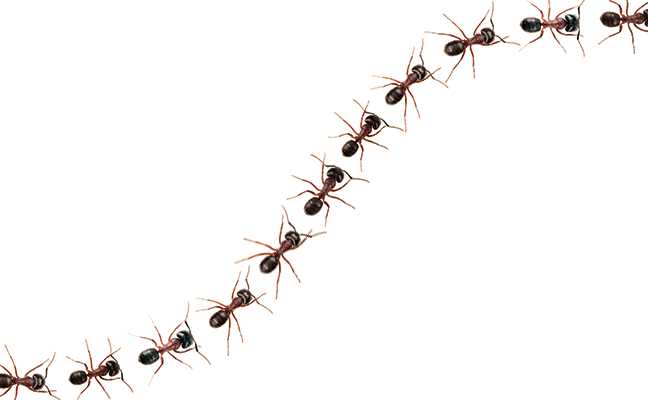 Until next time. Be well out there!
Jim
P.S. Here are all, save one (he was taking the picture) of  a group of intrepid wearieds at Ruskin's Rock on the Brevant in Chamouni in the fall of 2016. The photo was taken not long after they had finished ascending the trail described above. Very soon after this, they were all looking for ants.